My Classmate Became My Familiar - Chapter 2.2
---
Chapter 2.2
---
The following day I had a nightmare where I was taken in by the Fujiwara family. My miserable life was ended by gouging out my guts with regrets after working to the bone for them in it.
As for us second-year students, about half of our weekly classes were over in the morning, allowing us to spend more time on self-study and quests.
After school, Fujiwara usually dragged me to do practicals or go on quests with her friends, but today I had something else in mind.
"Fujiwara. I've got some business to attend to at the Engineering Department if that's fine with you."
The Magical Engineering Department is a section that trains students to become Magic Engineers.
In simple terms, Magic Engineers are scholars of magic, and their activities are diverse. Their main activity is to manufacture magical equipment, but some also actively engage in research about other worlds and the demon ecology. Without Magic Engineers, there would be no development of magic. Thus, they are the largest group among Sorcerers.
In fact, the Magic Engineering Department has the most students and faculties in the school.
"Are you looking for some magic items?"
"Kind of."
Thus, Fujiwara and I headed to the engineering building.
The school campus had a total of four buildings, one of which was the stronghold of the magic engineering students. We headed to a certain laboratory on the second floor of the engineering building.
Even though it was after school, the engineering building was full of activity. It was like a Friday night entertainment district, but with engineering students constantly touting students from other departments.
"Hey, onii-san, why don't you buy some useful magic equipment?"
"It's new! You can maintain your magic circuits with just one of these devices!"
"A magic bomb for in times of need! It can shatter steel plates in one shot! What about you, summoners, out there? It won't let you down!"
"Sale, sale, really cheap! It's really cheap! Hey!"
They were as desperate as if they'd entrusted their wives to a pawn shop. While refusing the touts, I somehow managed to arrive at the lab I wanted.
When I knocked on the door, it opened, and several people in the room looked at me, but they quickly lost interest and went back to their work. There was one woman who looked at me and smirked.
"Look who it is! Sota!"
With long, shaggy hair, a worn-out lab coat, old bathroom slippers, and glasses, this girl looked completely abandoned was my childhood friend, Misa Konoe.
"What is it that you came to see me? Yawn, I'm so happy."
Misa smiled and walked over to us.
"Don't be silly. I'm here for the item you mentioned. Sell it, you money-grubbing girl."
"Oh, you're so mean~. That's why you can't get a girlfriend."
While saying this, Misa took out a pair of black glasses from her lab coat pocket.
"Ta-da! This is our masterpiece, the all-purpose glasses, Zeus No. 1!"
"It's a shame that a pair of glasses can bear the name of a god. What's that?"
Fujiwara plunged in, and Misa forcefully put the glasses on my face.
"Well, well, Fujiwara-san. You'll have to ask Sota, who will be using the glasses, about the features you're interested in."
The glasses didn't have any power in them. Are they fake?
"Oi. I asked you to add a magic power tank. What's with the glasses? It looks like a piece of junk."
"Blabber while you still can. It has not only the function of a magic power tank, of course, but it also has a super convenient feature as an added bonus! Sota, I'm sure you will love it! Now then, pinch the strings and inject the magic power."
I followed Misa's instructions and injected the magic power from my fingertips.
A faint glow ran through the geometric magic circuitry engraved on the surface of the lens.
"My magic power is being sucked out of me at a rapid pace. Was it really a magic power tank? How much capacity does it have?"
"The tank capacity is about 500 DP, which is enough for two average sorcerers. By the way, in terms of Sota, it would be enough for about five Soutas. Your magic power capacity is that miserable."
"Shut up. But I agree that though this thing is small, it's amazing. So, what's the most useful feature?"
"Yes. When the glasses have accumulated a certain amount of magic power, concentrate the magic power in your right eye."
The lens on the right side begins to glow faintly. A little later, the left side started to glow as well.
And through the lens, Misa's lab coat disappeared.
In addition, the uniform underneath gradually became transparent, and she seemed to be in… underwear.
"… Whoa! What is this?"
Misa smirked.
"Did you see how transparent my clothes were? Hmm~?"
Then she swayed her hands and looked like she was wearing nothing but her top and bottom underwear.
"Ah, I wonder how I can still see your p*nty and br*. It's so f*cking fancy, but win-win underwear…"
"Yes, it is. Well, I went to the trouble of getting new ones for this presentation. Hmm… Now that you can only see through the clothes, if you accumulate a little more magic power, you can see through underwear too."
"Seriously?"
"I'm serious. You may have guessed it, but it's a function that allows you to see through matter by focusing your vision. It is activated by consuming the tank's magic power. The more magic power you consume, the more you can see through. In other words, Zeus No. 1 is a divine invention that will make X-rays, CTS, and MRI a thing of the past through the wisdom of magical engineering! Surprise!" [EN: Collimated Transmission Spectroscopy (CTS) and Magnetic Resonance Imaging (MRI)]
"Isn't… amazing? This…"
"Right?"
Misa rushed in.
"I never thought I'd be able to invent something like this! It's amazing! I'm afraid of my own talent… Yay Sota! Yay!"
I got a high-five with a squealing Misa. By the way, she seemed to be still in her underwear.
I have no idea how to turn off the function.
Oh well, I guess it's okay.
"It's amazing. What's the logic behind it? I have no idea!"
"I'm not sure either! More importantly, Sota, come on, look at me, The S**y Pose…"
"Yeah! You look great!"
"Really? Then what about this?… Ufu~n!"
"Hieee! It's not erotic at all!"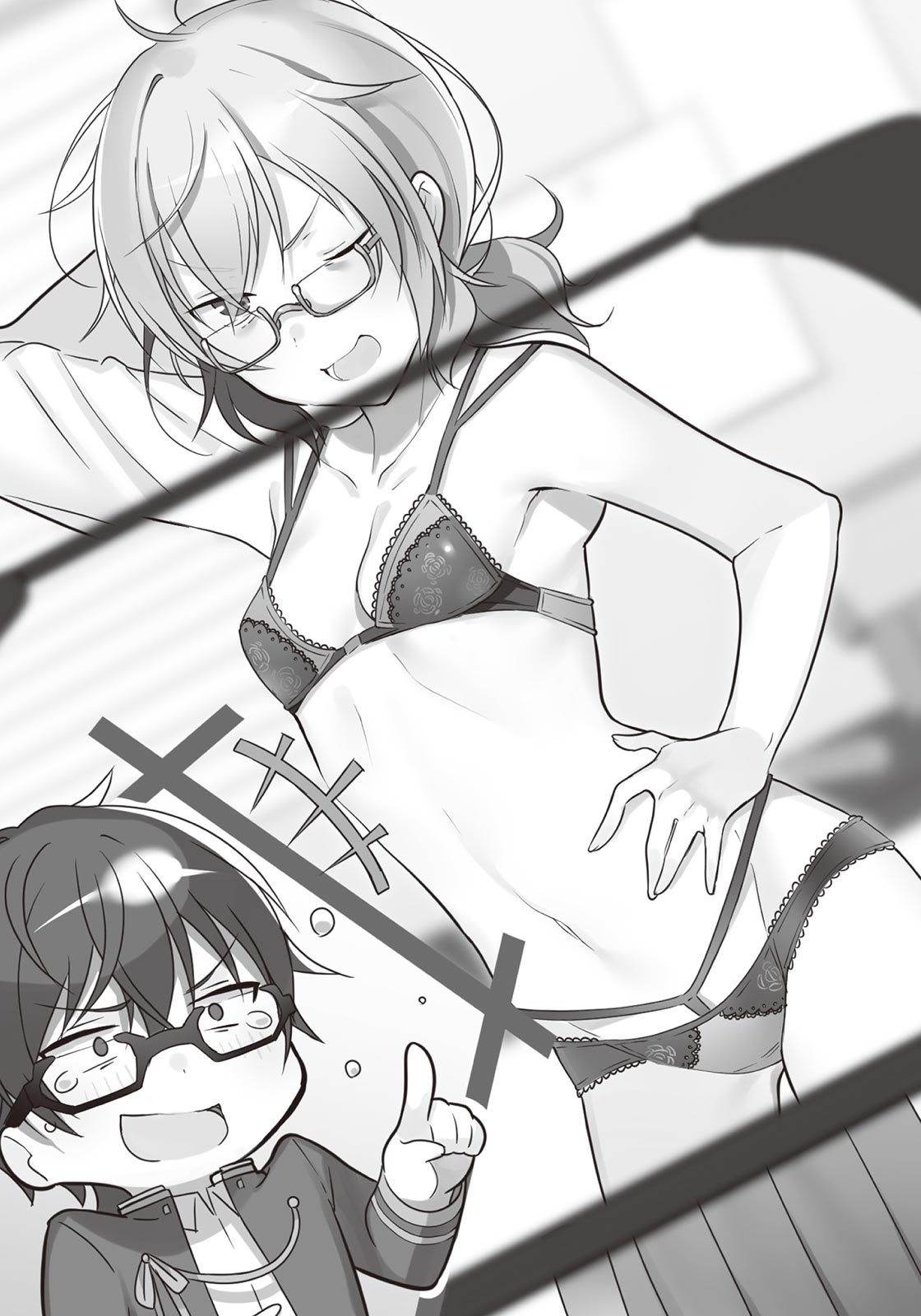 "… Ashiya-kun!?"
As we were both giggling, I heard an unsettling voice from beside me.
Gulp. I had forgotten about Fujiwara.
"You said… you can see through the clothes?"
"N-nope… I didn't."
When I was about to turn around, she snatched my glasses away from me.
Before I could stop her, Fujiwara put on the glasses and looked disgusted.
"Ha! What the h**l is this?"
"It's Zeus No. 1!"
"I didn't ask for its name! This… Such a shameful and dangerous thing!"
Fujiwara's face turned bright red, and she slammed Zeus No. 1 to the ground.
It bounced heavily from the impact.
"Ah…? What are you doing? Wait, stop…! Stop it!"
Misa covered those glasses as if she was protecting a baby.
Fujiwara was about to chase and stomp her, but as expected, she held her ground.
"What have you done to our masterpiece!"
Misa, who had secured the glasses, distanced herself from Fujiwara.
"Can't you even tell the difference between what's okay and what's not? You're evil! You have no sense of decency! That's why you're called Japan's Dark Lord and a walking magic landmine!"
"Hou? I've never heard of this!" Fujiwara exclaimed, her eyes widening in astonishment.
"Well, now tell me! Which class? Grade? Just tell me about their department!"
"Those kinds of students are everywhere in the engineering department, so there's no end to trying to identify them!"
Fujiwara frowned, perhaps because of the unexpected response.
"Well, that's okay. Anyway, first things first, why doesn't it bother you being seen in your underwear by Ashiya-kun? Are you a lascivious woman?"
"No, I'm not! It's not like I'm going to lose anything by being seen, and it's too late for that! Sota and I used to bathe together a lot, so I don't think anything of underwear, to be honest."
"Haaaa!? Oh my god, stop…! Think about how old you are! You're not a child anymore! Now, hand over that dangerous thing to me! I'll get rid of it! Hurry up."
"No, I won't."
Misa hid behind my back, and thanks to her, I had to face the red-faced furious Fujiwara head-on.
No, give me a break. This girl was really messed up. If I provoked her, she might break my nose or something.
"Ashiya-kun? You're smart enough to know what you should do, right?"
"W-wait a minute. The main function of these glasses is not to be used only for dirty purposes. The main function of the glasses is just a magic power tank, and even you are worried about my unreliable magic power, right? But destroying it is a bit unfair… you know…? Right?"
"You can simply buy a normal magic tank. Just a regular one! Not that nasty stuff."
"Yeah, I can…"
"—Wait!"
When I was wondering what to do, Misa shouted.
"This is not intended to see through clothing, but only to see through objects! It's very useful when you're fighting in a place with a lot of shielding or when you need to go stealthy!"
Fujiwara flinched as she heard a more serious counterargument than she expected.
"And the see-through function isn't the only added feature! This Zeus No. 1 has the most powerful magic armament, Divine Thunder, built-in for emergencies!"
"What's that?"
Misa jumped out from behind me as if to say, "I'm glad you asked."
"It's an offensive electric magic that consumes all of the tank's remaining magic power and releases it! Its power scales corresponding to the amount of magic power consumed, and it shoots out a single lightning bolt at the focus of your vision. It is the last trump card, an insurance policy in case Fujiwara-san falls and Sota, who isn't good at fighting, is left alone."
"Oh, you've put a lot more thought into this than I thought."
When Fujiwara muttered surprisingly, Misa nodded and said, "Of course!"
"Whether a tool is good or bad depends on the person who uses it. Guns have killed countless people in history. But at the same time, lives have been saved by those same guns. It's the same with Zeus No. 1! I believe that if you use it right, it'll definitely help the two of you in your quest! Whether you're a good guy or not is beside the point!"
Not worrying about the rest, its function was the most important part.
Fujiwara took a half step back as if overwhelmed by Misa's passionate speech.
It seemed that she no longer had an argument to fight back one way or the other.
Fujiwara, who had been wrinkling her brow in frustration, let out a breath as if to give up.
"… Okay. But if you see me naked with those glasses, I will never forgive you."
"Don't worry. I'm not going to look at your naked body even if my eyes explode and my brain matter shoots out. I swear to God."
Fujiwara glared at me when I stated it boldly. What was it?
Well, well, whatever it is, now I can buy it with peace of mind.
"So, now that you've given me permission, I'll buy it. How many points?"
In general, when you buy magic equipment from engineering students, you would pay points instead of cash. This is because there are few quests for engineering students, and they have few ways to earn points. That's why they're desperately trying to sell magic tools to summoners and magic warriors.
Like us, engineering students need a certain number of points to graduate.
"Thank you again. Hehe, that'll be 60,000 points!"
My eyeballs almost popped out of my head.
"That's too much!"
"What are you talking about?"
Misa shrieked furiously.
"I've discounted the price considerably because of you, Sota. I charge more to others! And I can't possibly graduate without selling stuff. It is the best I can do! Reasonable price! You got it."
"But you know what, 60,000 is more than a million yen in cash…"
"You think these glasses aren't worth it? I made them for you, Souta, after working overnight! These glasses, which contain my love for Souta, have no value at all? I've even shown you my underwear! Oh, maybe you want to see me completely naked? … Hurry up and buy it!"
Regardless of that last suggestion, the glasses themselves were certainly of tremendous value because they could be used for dirty stuff. How could I not want them? I'd even be willing to give up a kidney for them.
But I can't afford not to.
"I have about 30,000 points on hand… is not enough."
Fujiwara and I split the reward points for the quests. We've done our fair share of quests, but as individuals, we haven't accumulated much. And yet 60,000 is a bit much, you see?
"Mmm. That's certainly impossible. But 30,000 for this great invention of the century is… hmm."
Misa, who had been groaning for a while, clapped her hands and said,
"Okay, here's what I'll do. For now, I'll take 30,000 for the down payment, and you can pay the rest in installments."
"Is this a debt? Oh, no, not debt… Anyway, what's the interest rate?"
"No interest, we're good friends, right? You just have to pay back 5,000 points every month on the 15th."
"Seriously? I appreciate that. Then in that case… "
"But you'll have to make a promise…"
"… What kind of?"
Misa coughed deliberately.
"If you fail to pay back even once… then in the future, if I am still single, on my 30th birthday, Sota, you'll have to take me as your wife."
Ha?
"Oi, Oi, Oi-Oi, that must be a joke, Konoe-san… You can't be serious?"
"I'm serious. Because frankly speaking, I don't think I'll ever get married. Just think of it as insurance, isn't it better. Don't you think so too, Sota?"
That may be true, but…
I mean, as long as I pay back the loan, there's no loss, right? And even if something were to happen to you, Misa is already like family to me. Her personality is a thing, but…
"Hmm… Okay. I'm fine with it."
"Are you insane?"
Fujiwara glared at me.
"No, I just have to give it back! I can get 5,000 points every month easily. I just need to complete two D rank quests, and I'm good to go! I can afford it! I mean it…!"
Fujiwara looks at me as if she was looking at a worm, please stop.
Don't look at me like that.
"If it's okay with you, I don't have anything to say…"
"Then we have a deal. I'll save the memorandum, and we'll perform the magic of the contract later."
"Wow, you're serious! The magic of the contract is something that will kill you if you break it."
Ah, well, whatever.
She handed me the glasses, and I put them on.
As soon as I plucked the strings and injected the magic power, Fujiwara distanced himself from me, hugging her body as if in caution.
No, no, no. I didn't want to see you naked. I was simply storing my magic power.
"Oh, by the way, there's something I wanted to ask, Misa."
"What is it?"
"Can you make a magic device that separates demons and humans? I want Fujiwara to return back to normal."
Misa crossed her arms and groaned.
"It might be… difficult. I didn't think that we, as students, could do anything about something that the professionals had tried and said was impossible."
"As I thought…"
"I'm sorry… And this is not directly related, but I had a few questions about Fujiwara-san's case. Why did the grimoire burn?"
It must have been when Fujiwara was trying to subdue the demon. At that time, the grimoire suddenly caught fire.
It was something I had wondered about too, but we didn't find the cause in the end.
When I looked back, Fujiwara also shook her head.
Misa also said, "I have no basis for this," before continuing.
"I was wondering if someone had tampered with Fujiwara-san's grimoire."
"What do you mean by tampered?"
Fujiwara tilted her head.
"But who did it and for what purpose?"
When asked, Misa replied, "I don't know."
"But I can't get over the fact that the grimoire burned up clean. I heard that you submitted your grimoire to the school for scrutiny before the summoning exam. And if that's the case, a third party could have done it if they wanted to, you know."
When Fujiwara fell silent, as if thinking about his guess, Misa waved her hand as if in a panic.
"It's just a guess without any evidence, so there's no need to take it that seriously."
"No, I appreciate your opinion. I'll keep it in mind."
---
Comments for chapter "Chapter 2.2"
MANGA DISCUSSION