In the After School Library, A Refined Lady's Romantic Comedy Can't Be Compromised - Specials - Part 3
---
Translator: Lilo
Editor: Ryuubii
---
Specials Part 3
A Sibling's Quarrel?
【Hasumi Shion's POV】
"What should I do, Kirika-san? I got in a fight with Shizuru…"
As soon as I entered the cafe, I immediately asked Kirika-san for advice.
"Alright, alright, Shion-chan, I'll hear you out. First and foremost, order something and sit down."
It felt like I got treated like a kid.
"If you want me to follow you, at least say why… what, is that how it is?"
"Sh-shut up. I don't want you to go to Shizuru today, Takinami-san."
As soon as we took our seats at the table, Takinami-san spoke, looking astonished, and I replied in a curt manner.
"I wonder what you're talking about?"
Takinami-san looked even more astonished.
"So what happened?"
Then Kirika-san brought me an iced coffee that I didn't order. On top of this heat, I always order the same thing, so it seems like a no-brainer.
"Um…"
I was hesitant to say anything about it when asked… so I wasted time putting gum syrup and milk in my glass.
Then I prepared for the worst,
"…Shizuru saw me naked."
"HaahH?!"
"Oh my…"
Immediately afterward, Takinami-san was so surprised that she jumped, while Kirika-san laughed hysterically.
"What were you doing?!"
"Why are you getting mad at me when I'm the one that got seen?!"
That was unreasonable.
"Since it's you, Hasumi-san. Maybe you got carried away and were wandering around with just a bath towel to cover you up and it fell off?"
"Ah, I feel like I just got hit by a stray bullet."
Suddenly, Kirika-san spoke up.
When Takinami-san and I looked at Kirika-san without understanding what she meant, she turned her head away in awkwardness.
"So what was the situation?"
After a moment of silence, Takinami-san cuts in again.
"When I was undressing in the changing room to take a bath, Shizuru opened the door…"
"Did you lock it?"
"For some reason, our house doesn't have locks."
I was not sure if that was unusual or not. I don't know about other houses. To be honest, I also think it was strange that there were locks here and there in a family's house. [T/N Girl is crazy, privacy is very important these days, especially for teenagers.]
"What were you wearing, Shion-chan?"
"I was trying to remove the last piece from my toes…"
"She's not naked?!"


Takinami-san screamed.
"I told you so right from the start."
"You did but…"
Takinami-san stopped up in frustration.
"D-don't worry. He only saw my back. Besides, it was only for a moment."
Why am I making excuses?
In fact, 
Clunk
"Ah."
"Eh?"
Bam!
It was only for that amount of time.
I didn't even have time to turn around and look at Shizuru's face. I was frozen for a moment in a position where I was trying to pull my underwear off my right leg… I have an amazing balance if I say so myself. As expected of a former athlete.
"Depending on where Shizuru was looking, he might have been able to get a quick look at my back. The damage was shallow."
"But it means he saw your butt, didn't he? That's quite much."
"Ugh…"
I found hope in Takinami-san's words and was struck down by Kirika-san's words. Both of which I have been thinking about endlessly since yesterday.
"Worst case scenario, depending on the angle, he could have seen the breast, too. Since Shion-chan is quite big in a sense, he might be able to see it from diagonally behind. This would be fatal."
"Eh…? No way…"
That was totally unexpected. Without thinking, I hugged myself and pulled my chest in tight.
Shocked, Takinami-san opened her mouth, looking miffed. So, did Kirika-san.
"So, you said you had a fight at first, did you yell at Shizuru?"
"Or did you perhaps slap him?"
"No. I haven't looked at him since it was so awkward…"
"Then you're not fighting?!"
"Doesn't look like it."
Takinami-san sounded angry and Kirika-san sounded dismayed.
Perhaps Shizuru was at fault, but I was too embarrassed to face him to be angry about it. So, I woke up early this morning, packed my lunch, and left the house before Shizuru woke up. Thanks to that, I had a hard time killing time until I got to school.
"If things continue as they are, even Shizuru won't be able to explain himself, so why don't you stop being so awkward and talk to him face to face?"
"I guess so…"
I said in resignation and drank my iced coffee. I feel like the situation is getting worse now that there was even a possibility that he saw my… breasts, but I can't avoid it forever. The only way to get rid of the problem was for him to apologize and then I forgive him.
Then, Kirika-san, who appears to be thinking about something, spoke.
"So then you two bathe together."
"How does it always come to that?!"
"Oh, of course, while wearing a swimsuit, okay? Shion-chan should be as bold as possible. If you get used to seeing him like that, when the time comes, you can just say, 'Oh, it's not so different from what I see all the time.' If you talk slowly in the bath, you can kill two birds with one stone by getting to know each other better."
Kirika-san said with confidence.
"Um… is that how it… works?"
Now that she mentioned it, I think she does have a point.
As I was thinking about it. Kirika-san and Takinami-san began whispering something in secret.
"If there was a bold, older sister in a swimsuit with a nice body within arm's reach, I'm sure Shizuru-kun will fall in a swoop."
"A forbidden love, indeed."
"I'll never do that!!"
I shouted with all my might.
Why do these two always try to lead me into strange ideas? I guess it was also my fault for being so easily taken for a ride.
In the end, Dad was there that day, fortunately or unfortunately, and I was able to have an awkward but superficial conversation with Shizuru when I saw him. I couldn't broach the definitive subject, though.
After the three of us finished dinner, both Shizuru and I returned to our rooms early.
From downstairs, "What's wrong, you two? It's been a long time since I've been here." I heard my dad's restless voice, but I ignored him.
§§§
The next morning,
As expected, I woke up early and left the house before seeing Shizuru.
I'm quite stubborn if I say so myself.
Then came lunch break.
I bumped into Shizuru at the vending machine corner of the school cafeteria.
" "Ah…" "
We froze as we faced each other.
Shizuru's face was red. I'm sure I was the same.
"E-excuse me. Alright then…"
Shizuru was the first to move. He walked past me and tried to leave quickly.
But I grabbed his arm as quickly as I could.
"W-wait, Shizu… Makabe-kun."
I tried to call him by his last name at school, but I almost accidentally called him the way I usually call him.
First, take a deep breath.
"I have something important to tell you later… Dad isn't home today."
And when I said what I meant, there was a big uproar up around.
It was difficult to calm it down.
§§§
When I got home and prepared dinner, Shizuru came home at the usual time.
Not early, not late.
He didn't want to get it over with quickly, and he didn't want to waste time either.
"…I'm home."
"Ah, yeah, welcome back."
Unlike during the day, I knew we would meet here, so I was prepared. It seemed that Shizuru was the same, but we were both blushing.
"Because the sooner we get these things done, the better."
I prefaced my comment by pointing to the sofa. I'll probably just end up eating a tasteless dinner if I put it off. I've been avoiding it for two days.
"There, sit down."
"Yes…"
Shizuru obedient sat down in his school uniform. I followed suit and sat down on the sofa diagonally in front of him.
"About the day before yesterday―"
"I'm sorry. I was thinking about something and I thought you were already done…"
Before I could say anything, Shizuru bowed his head. I thought it was something along those lines… Even I forget about the things we do monotony.
In the first place, it might not be a bad idea to have a lock in the house. Dad seems clueless when it comes to his daughter's feelings, but he was very firm on things like courtesy and manners (although he did have an affair……). He knocks when entering any place where I might be, including the dressing room and even the upstairs bathroom. No matter how many memories I pull out, there was never a time when he entered his daughter's room without knocking.
That was why I have never felt the need for locks.
"Always knock next time. Understand?"
"…Yes."
Shizuru nodded remorsefully.
This should be enough. There were no absolutes because it was what humans do, but with Shizuru, one failure would be enough.
Here's the main issue.
"So, did you see…?"
And I ask him while staggering.
"So, did you…?"
"Eh?"
Shizuru's body trembled.
"…you did?"
I shrugged and demanded a response, though I had a pretty good idea of what to expect in response.
"I-I did."
"How much did you see?"
"Um, I was at a distance so the whole picture was… in view."
Before I could hear Shizuru's last words, my consciousness faded away. I fell flat on the sofa. "But it was only for a moment." Shizuru explained, his voice seemingly came from somewhere far away.
Overall view.
In other words, my back and below that…
The damage was deep.
The wounds run deep.
I think there was a possibility that there was more to it, but I can't be sure anymore. If I confirm it and it turns out to be a fatal wound, I will not be able to recover from it.
I asked Shizuru as I slowly got up.
"When you saw it… um… how was it?"
Huh? What am I saying…?
"Ho-how was it…?"
"You know what I'm getting at, don't you?!"
When I repeated my words in a backhanded manner, Shizuru turned bright red and opened his mouth.
"It was very beautiful. I couldn't help but want to touch it. The bottom of it was also… well-shaped…"
"Noー!! Why are you openly talking about your impressions of it?! Are you dumb?!"
I picked up a cushion that was nearby and attacked Shizuru. Bam bam, I hit Shizuru repeatedly.
"But you were the one who…"
"I know that much!"
I didn't expect to get such embarrassing feedback. I heard that my backside was so beautiful that he wanted to touch it. Or, or, that my bum has a nice shape. For a moment? Who are you kidding? So he was watching intensely to be able to say that much from only seeing it for a moment.
So I continued to repeatedly hit Shizuru for about five minutes ― we sat slumped on the couch, gasping for air. Dust was flying around. Fortunately, the cushions were safe. I'll have to hang them up next time when the weather is nice.
For now, I'll let him off the hook. Enough of this. Neither party will gain anything by rehashing it.
My goodness. Why is it that he's so stupidly honest in such a strange way? If he had said he hadn't seen anything from the beginning, I would have been convinced, no matter how suspicious he was acting. It was better for the both of us to let it slide, even if it seemed false.
If you call it sincerity, it was indeed. However, if he went beyond sincerity and it became embarrassing, there was nothing to be done.
"Um, I still think you should consider putting locks."
"Rejected."
I immediately responded to Shizuru's suggestion.
It probably won't take much time or money to implement it. It would only require replacing the doorknob and making a few minor changes to the surrounding area. Since it was not for security, but just to know that someone was in the room, a simple external key from a home improvement store might do the trick.
But
There should be no locks to be put on this house after Shizuru's arrival.
Therefore, rejected.
"Then how about plates?"
"Plates?"
What on earth is that? In curiosity, I corrected my posture. Shizuru also moved his body away from the backrest.
We were sitting side by side on a sofa, with our bodies facing inward toward each other. We had never sat like this before, so it was a little refreshing.
At a closer distance than usual, Shizuru explains by fluttering his right palm front to back.
"It has text like 'In use' or 'Go ahead' that kind of stuff."
"Oh, those things."
I finally got the picture. I don't know if there was that kind of wording, but 'in the room' and 'absent' are also useful enough.
And then it hit me.
"Then, let's go look for it at Hands in Sannomiya next time."
"Eh? Me too?"
"Of course. It was your idea after all. It's also for everyone in the family to use."
It will not begin until I take Shizuru out.
"If that's the case, Uncle…"
"Ah, Dad is fine. He will only be in the way."
"Harsh…"
Shizuru laughs bitterly.
I have bad memories of Sannomiya. My thoughtless words and actions made the other party angry, and as a result, Shizuru was seriously injured.
I want to overwrite those memories.
If we find what we're looking for at Hands', we'll get some soft-serve ice cream afterwards.
Then I also want to pick out some clothes.
How about clothes that have an open back this summer?
§§§
Later,
At the cafe.
"I'm surprised you bought that one…"
When I told her about the clothes I bought on my outing with Shizuru, Takinami-san let out a sound of astonishment.
"You think?"
The top I bought has a halter neck that shows about half of the back, but I guess that was what you get in summer.
And then, Kirika-san, who was listening to the conversation, interjected in an amused manner.
"What would you do? If Shizuru-kun asked to touch your back?"
"Eh…?"
An unexpected question.
That was something completely unexpected.
Thinking back, Shizuru said it was so beautiful that he wanted to touch it. If I wore such clothes in front of him, wouldn't it be natural to feel such an urge…?
I tried my best to wrap my head around it.
"What should I do, Takinami-san? What if I make a funny voice?" 
"Figure it out yourself."
She barked as she reached out for a glass of chilled water.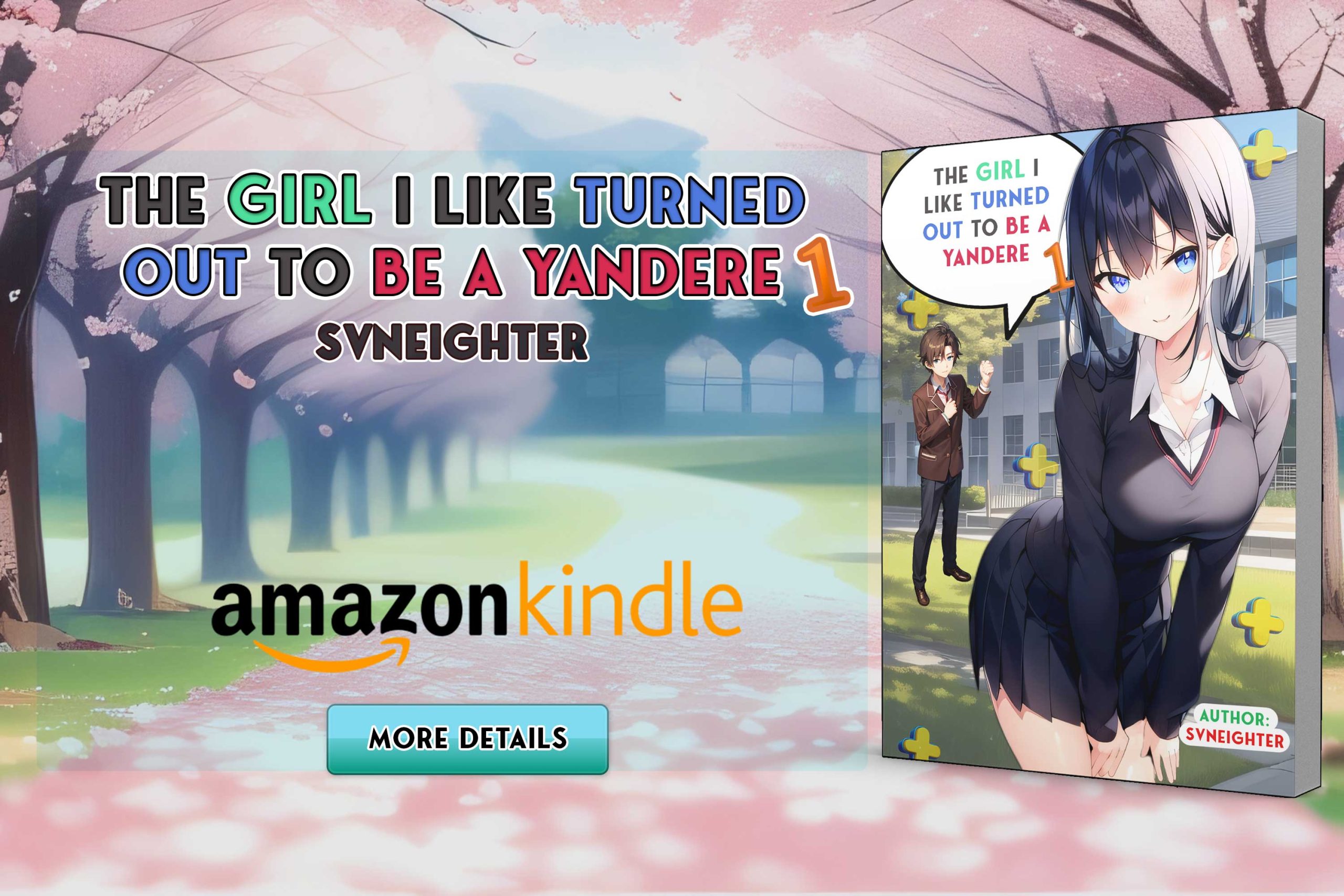 Comments for chapter "Specials - Part 3"
COMMENTS