I Kissed My Girlfriend's Little Sister - Chapter 24 (End)
---
Chapter 24 – Pure Love X Fumble
---
Part 1
I want to go back.
I want to return to the relationship where I can tell Haruka that I love her without hesitation.
That day's phone call helped me reassure my feelings.
If that's true then I shouldn't be intoxicated by Shigure's sweet poison.
Shigure is sweet, kind, and offers me everything, just as I desire.
But if I indulge in those feelings, I will only sink even deeper.
I have to face Haruka.
And I have to make her believe in me. 
That I'm not after her body.
That I'm not a man who would impulsively hurt her.
If she believes me, then I'm sure Haruka will forgive me for that kiss from before.
And a stronger bond will form between us.
So the question is, what do I have to do to make her believe me?
To be honest, I have no idea.
I think I should talk to Tomoe about this…
"Excuse me?"
"Oh, excuse me! Welcome!"
Not good.
A customer came to the counter when I was lost in thought.
I asked Takeshi to introduce me to a part-time job at this drugstore so that I could give Haruka a birthday present which will be in October.
I got the job through referral, so I had to do it properly.
I blamed myself, picked up the barcode reader to deal with the customer who came to the cash counter.
──Wow. This woman is so beautiful.
Or rather, She was a beautiful girl. From the look on her face and the color of her hair, I'd say she's not Japanese. Her facial features were truly sharp. In addition, she was tall, and not to mention they were huge.
But her demeanor was elegant as if she was a princess.
Maybe she was younger than me?
Oh no… not good, not good.
I was about to be in a daze again.
I have to give her the bill quickly. Wait, what's that…?
"…!"
I froze the moment I saw the items she brought.
Lipstick. Perfume. Cold-drinks. So far, it was good. But this rectangular package with the words "0.01mm" written in big letters… was "the rubber for that kind of stuff!"
E-even such a beautiful girl buys such things. Heh, heh, eh…
No… It must be because she's beautiful.
In case her boyfriend…I guess it is for that.
I felt like I had seen something that I shouldn't.  
If I think about it too much then it's gonna show on my face. 
I should hurry up.
"Thank you very much!"
"~~~~!"
That redheaded girl snatched the poly-bag and ran off as if to escape.
I guess it showed on my face.
If so, I'm truly sorry.
"Hiromichi."
After the girl left the store, Takeshi, who was standing next to her in front of the cash register, spoke about her with a slightly blushing face as if he had been watching her.
"W-well, the thing that cute girl just bought was… "the rubber for that kind of stuff!", right?"
"Yeah. It was "the rubber for that kind of stuff!""
"So it was the truth, sigh! It's all messed up! Young people in this country are out of control!"
The muscle-head was worried about society.
Though she looked like a foreigner to me.
"I sometimes feel like I'm losing my mind, Hiromichi, when I think about the people I see having s*x."
"You should go to the hospital, you're saying weird things."
But when I think of girls my age using such things, it makes me feel like there's a completely different world out there.
I'm not sure how many years it will be before the current Haruka and me, who can't even hug each other, start using these things.
"… No."
That's when it happened.
Inside my mind, a flash of light led me to the solution of my problem, an idea came to my mind.
That's right, this will do it.
This is what I've been missing!
"Takeshi!"
"What the heck?"
"Pack me one of these c*ndoms!"
"You traitorous b*****d!!!! Our friendship is over!!!!"
---
Part 2
---
Finally, the weekend came.
I went over to Haruka's house and we did our summer homework together.
You might be thinking, "What's the point of doing homework with her during the summer vacation?"
However, studying is the only field where I, a person with low-middle-grade human specs, can impress Haruka, a beautiful S-class girl.
I actually like having study dates where I can respond to her requests.
Besides, the situation of entering a girl's room is quite exciting for a guy.
The time flew by, and before I knew it, it was dusk.
"Thank you, Hiromichi-kun. Thanks to you, I've made a lot of progress! Having a smart boyfriend helps me get my homework done quickly so I can focus on acting."
"It was a small price to pay. You even bought me lunch."
"It's a cheap burger, though! It could've been more expensive, you know?"
"No, no. It's still 600 yen. Besides, you can't have a part-time job because of the drama club. I can't bear to take any more from you like that."
"I'm happy to have a boyfriend who understands what I'm going through."
Haruka made hand gestures of worshipping and muttered thanks and appreciation.
She was giggling like a cat.
I felt like I'm seeing various kinds of expressions today.
"You're in a good mood today. Haruka"
"Ah, do I look like that?"
"Yes. You look cute though. Did something good happen?"
When I asked, Haruka's expression became like that of a sloppy cat.
"Well… yes. You know Hiromichi-kun. I called you today because, as we talked about on the phone, there was something I wanted to tell you first."
"To me?"
"Yeah. I haven't even told my dad or Shigure yet. Fufufu."
When I asked, she coughed cutely and told me with a proud look.
"Ehem, Haruka Saikawa has been chosen as the leading actress for this year's festival act!"
"Whoa! Really?"
"It's for real! The leader informed me the other day that she's going to write a script for the school festival in which I'll be the main lead!"
"Really? The leader said that…?"
"When I see Haruka these days, it stimulates my creativity. I was wondering what kind of tragedy would suit this cute little maiden in love…"
"… I'm starting to get anxious. It's not something weird, right?"
"Hahaha… Leader is usually like that, but she's a pro when it comes to scripts, so nothing weird will come out of her."
I see. Well, then I hope it'll be fine.
"But yeah. You're playing the lead. Haruka, you've been working very hard."
Seiun's drama club is a fairly large group, thanks to the centripetal force aka the leader of the club, who is also a famous writer.
Even a novice like me can understand how amazing it is to be chosen as the lead from that leader.
When I see Haruka's gleaming face, unable to hide the joy that overflowed from her heart, it makes me even happier than I am.
… I'm relieved that I feel this way.
Because that proves that I love Haruka.
That's right. I love her smile.
Just looking at her bright smile makes my heart skip a beat.
I'm filled with so much love that I wish to hug her.
I want to hug her and kiss her.
I think… I'm about to ride these overflowing feelings once again.
Because these feelings can't be wrong.
Once Haruka denied it, I've been reluctant to do so, but not expressing my love for my beloved lover, hiding it from the public, keeping my distance, and looking for a good mood is still wrong.
My feelings were once rejected by Haruka, and I felt sick all the time, but not expressing my love for her, hiding it from the public, keeping my distance, and looking for a good mood is still wrong.
… It will be fine.
I've made preparations for that. That's why I mustered up the courage I hadn't had in a while and asked,
"Hey, Haruka. To celebrate, can I kiss you?"
"Eh…"
"We haven't done it in a while, right? Both of us…"
"… yeah, that's right. I've been so busy that I haven't been able to see you much."
"No."
I shook my head in denial.
It's not because we didn't see each other much that we couldn't kiss.
It was because I didn't even try.
"That day at the beach, I scared you. I thought over it a lot. Why did you blame me that much…?"
"!"
"The reason why I kissed like that was because I was so overwhelmed that I wanted to tell you I love you so much, not because I wanted to have s*x. So when you rejected me saying 'this isn't love', I was really shocked, and to be honest, somewhere in the corner of my heart, I doubted Haruka. Why didn't you believe that I would never do something so irresponsible? Why didn't you want to touch me, your boyfriend, the same way I do? Do… you really love me…?"
"Hiromichi, kun…"
Haruka's eyes trembled with surprise.
Her boyfriend doubted her.
It's natural to be upset when someone close to you blurts out something like that.
But that's in the past now.
So to reassure Haruka, I gently held her hand on the glass table and said,
"But then I finally realized that I was the one who was stupid."
"Eh…"
"When I thought about it, it was natural for you to be scared. Because I wasn't prepared for anything at that time. It's too easy to ask people to trust you when you don't have anything to trust them with. No wonder you rejected me. So now I, as a man, had to prepare this kind of thing to reassure Haruka."
"Pre-pared?"
Haruka's face shows her confusion.
She can't seem to understand what I'm saying.
So I said the name, a little embarrassed to put it into words.
"… C*ndom"
"!?"
"I knew there was such a thing, but I never thought I'd need something like this. So I didn't prepare. And that's not gonna work."
Because I'm in a relationship with the opposite s*x, Haruka.
That's what they said in the s*x education class I took when I was in first year.
It's not only to prevent unwanted pregnancies but also to prevent diseases, you have to wear a c*ndom when you have s*x.
"To be honest, I still can't imagine us doing something like this… but this is not a matter of using it or not. If you care about your partner, you should be prepared."
I didn't care about her enough.
I tried to close the distance between us without knowing.
"It's no wonder you didn't trust me. But it's different now. So… today, can I hug and kiss you again?"
Not only with my words, but also with my actions, I wanted to show my affection for Haruka.
I filled what was missing that night and reached for Haruka's shoulder.
I wanted to return to being a lover who can love her again.
My wish is to…
"Don't touch me!"
She forcefully rejected me.
---
Part 3
---
my extended hand was lashed out with a swift blow.
The pain numbed my bones, and I was stunned.
"… Haru-ka?"
"… Terrible, you're terrible, Hiromichi-kun…"
She wasn't smiling anymore…
Rather tears rolled down from her cheeks.
Why… are you crying?
What… did I do to make you cry?  
"You promised me. You said that we will wait until we both are grown up and able to take responsibility for our actions… And yet, to bring such a thing is… terrible!"
"P-please listen to me! I didn't mean to use it now. I just wanted to apologize for my carelessness…"
"Then why would you buy such a filthy thing?"
… is, eh? Dirty…?
C*ndoms?
eh? W-What do you mean?  
"C*ndoms are for playful s*x that doesn't involve making babies. To Hiromichi, s*x with me is just for fun!?"
"──!?"
Haruka's hysterical reaction sent me into a panic.
Of course, I know that it's for doing erotic things, and that's embarrassing.
I was a little hesitant to even mention its name.
But I don't think the purpose of using it is for fun.
I know that contraceptives play an important role in a healthy, caring relationship.
But Haruka's perception… that it wasn't.
That it was disgusting.
She expressed her sheer disgust.
Why?
Why would you react that way?
I don't know. I don't know, but this is bad.
I need to calm her down and explain. I wasn't trying to use it right now. I want to touch Haruka, but I'm not going to do anything more than that until she's ready.
But…
"People have s*x to make babies with the person they love. It's not about making a boy feel good."
"Please, just calm down and listen to me! I really didn't mean it! I…"
"Then why did you buy such a disgusting thing? Doesn't it means that you are after my body… I believed you were not like "Takao-san", but you are terrible, terrible…"
"H-Haruka."
"Go home…! Get out of this house right now!"
My voice couldn't reach Haruka anymore. 
***
Haruka's shouting drove me out of her house, and I walked home helplessly through the city.
Falling, stumbling, lethargically
"…..………"
I thought as I stared at my shadow.
I wonder if I've done it again.
But… am I wrong about this?
I wish she could understand me.
That's what they told us in s*x education classes.
From an ethical standpoint, what I did couldn't have been wrong.
It was wrong to bring up the… topic, is what she meant.
That kind of sexual topic is taboo for Haruka.
Until we grow up and get married, we will keep everything to ourselves, and no matter how much I love Haruka and want to hug her, I have to be patient because it's dangerous to get excited.
Be patient, be patient, but still keep the fire in your heart alive.  
"That's impossible."
I can't help but feel the need to touch you.
Because there are too few words to express my feelings for her.
I don't have the confidence to keep our bond without expressing my love.
Or is it that I was just after her body, despite all these reasons?
The truth must be that I never cared about her, I added this and that to justify my savage feelings…
"Ahh… Maybe she was right."
I am after a girl's body…
The love for her wasn't better than sexual craving.
I don't care who satisfies me as long as she has good looks.
And that's why I did those things to Shigure, isn't it?
It was such a frivolous thing to do.
Isn't that right?
I don't know.
Maybe it's right.
But I don't know.
I don't know myself.
I just, I was kind of, tired of…
Thinking about what I don't understand. Being swayed by trivial feelings. Everything.
If it's this hard… I'd rather… rather…
Forget about Haruka.
"Huh? Onii-san? Isn't it early. Welcome back"
When I opened the door of my house, I found Shigure peeking out from the entrance of the living room, probably watching TV.
"… yeah, I'm back."
"I was confused. I thought you were going to have dinner at Nee-san's house, so I didn't prepare anything… Onii-san?"
"Hm? What is it?"
"No, that's my line. What's the matter? How long will you keep dazing in the doorway?"
"…I'm not dazing. I'm starving. Let's get some food."
"That's what I just said. Food is not prepared." 
"Y-yeah. You just told me right…"
It was hard for me to look at Shigure because it makes me remember Haruka.
I couldn't look at her, so I turned away and entered inside.
I couldn't hear much of what she was saying.
She stared at me with a worried expression.
"Um… Did something happen with Nee-san again?"
"Nothing."
"That's not a face that says nothing happened. Otherwise, your bright face won't be so pale."
"…"
"If you're having a hard time, you can count on me. I'm her twin, you know. If it's me, it's not cheating. And I am happy just to be needed by you in any way."
"Then let me hold you."
"What?"
As soon as I heard the excuse she uses to forgive me, something inside me burst into tears.
I roughly grabbed her shoulders and pushed her against the wall.
 "O-nii-san?'
Her eyes rolled back in surprise at the sudden violence.
Her expression resembled Haruka's when I asked her to kiss me earlier.
They are really too much alike…
"You said you love me, right? Then let me hold you…! Why I'm the only one who feels this way. I want to get closer and let you know how much I love you, why don't you think the same? If you don't like me, if you regret confessing your love to me, then say so clearly!!"
"Onii-san!"
"… I don't know anymore. Haruka, yours and my "love" are so different that I don't know if you really love me or not. It's just so painful."
It's no use telling Shigure this.
It should be said to Haruka herself.
But when I look at Shigure, who looks very much like Haruka, the negative emotions that have swelled to the point where I can't keep them inside my heart anymore overflowed into tearful words.
And once the dam was broken, there was no stopping it.
"Please… make me forget about Haruka…"
If I'm just after a girl's body, and I'm willing to take any girl, I'll be satisfied with Shigure.
The murky waters of my current emotions will calm down, and I won't have to think about Haruka anymore.
That should do it.
That's why I wanted Shigure, for such a selfish reason.
But in response to my awful request for help, Shigure said in a worried tone.
"That's not possible."
"…"
"No matter what I do, you won't forget Nee-san. It doesn't matter that I'm her twin. It's because you're a person who can't be disloyal to others.
'It's my sister's fault. It's not your fault.' 
You're the person who can't see the difference between those two… I'm sure you'll regret it. You'll blame yourself later and it'll be much more painful than it is now."
"~~~~!"
"This is why… I'm going to keep comforting you. Until you can forgive yourself. Forever."
── Forever
I was grabbing her shoulders so hard that my nails dug in, but in return, she gently wrapped her arms around my neck and said,
"It's fine. Do whatever you want, Onii-san."
A smile that forgives my inadequacies, my selfishness, and everything else.
Once I looked into her eyes, I saw love, trust, and passion, everything I wanted Haruka to have.
I couldn't hold myself back.
"Huu… Waaaa…"
I clung to Shigure and cried.  
---
Part 4
---
After that, "my brother" cried his heart out until he couldn't anymore, and then he fell asleep as if he had run out of energy.
I caressed his hair as he slept on my lap, trying to not wake him up.
I hope it will help him to dream a little better.
"…"
In the end, he never laid a hand on me.
To be honest, I knew he would.
Because he's kind and… coward.
I believe that kindness does not necessarily come from strength.
Of course, there are people in this world who can be caring to those around them for every breath they take.
But he's a coward and doesn't want others to hate him. So he never thought of hurting others. He is always kind. He tried to be as honest as possible. His kindness comes from such self-love and self-preservation.
Some people say that this kind of kindness is fake.
Some people accuse such people as being dishonest.
But I don't think so.
At the very least, I much prefer cowards unlike "Takao", who was overly confident, doesn't care what others think, and carelessly hurt people around him for his own sake.
My brother is a coward.
He lacks confidence in himself as a human being and needs other's evaluation to establish himself. So he tries to make himself look good.
He will never betray by mistake.
He tries to be as honest as possible, to all extent.
I am sure that such a person will become an ordinary, but honorable father who loves his family in the future.
If only he hadn't met me…
I was the one who set his wheels in motion.
I knew that.
I feel bad about it.
But I can't stop.
Because I love him, I want to get close, I want to hold him. I can't control these feelings.
So… I wouldn't complain about what he wants to do to me.
If he asks for it, I will give him my heart, my body, everything.
The same goes for money. As the daughter of a glamour model, I am blessed with good looks. If I use my looks to my advantage, I will have no trouble making money.
I'll do everything in my power to make him happy, to fulfill his every need.
That's what I'm prepared to do.
… But what about my sister?
How could she hurt him this badly?
As I was wondering about this while caressing my exhausted brother, my brother's phone rang that was lying on the floor.
The name of the person on the display was… my sister.
After ringing for a while, the phone switched to a voice message, and I could hear my sister's hoarse voice, as if she had been crying.
|| "… H-hello it's me Haruka."
"Nee-san…"
|| "Um… I'm sorry for yelling at you earlier. I just couldn't stop feeling disgusted…"
My sister apologizes over the voice message.
"Disgust" is a pretty harsh word.
I wonder what happened between them.
I listen further.
|| "I actually have a very bad recollection about c*ndoms… You know Hiromichi-kun, my parents were divorced. It was because of my mom's affair, and my dad found out about it… because I took it to him from the trash can. I was a little girl at the time and didn't know… anything. Of course, it wasn't that thing's fault, it was my mom's. But seeing that thing reminds me of the person who cheated with my mom and separated me and Shigure…"
C*ndom…
I wonder if the reason for the fight was that my brother mentioned it to her.
|| "But I didn't want to make you feel uneasy about this. That's why I called… to clearly express my feelings. I've never told you anything like this before because I thought it was too early…"
My sister on the other end of the phone took a deep breath as if to make up her mind and said,
|| "I love you, Hiromichi-kun. I love you so much. When we grow up, I want us to get married…! I really do. I can't think of anyone, and I don't want to know anyone but you.
And one day, I want to tell my dad and Shigure that you are the one who cares for me the most, the one I love the most in the world.
… So, you know.
Until then, let's keep our relationship pure and honest, okay?
Because even if we don't do anything extreme, I'm sure we'll grow to love each other.
No. I think true love grows like that. It's not lust. It'll be a pure relationship of mutual affection. I want us to be like that. I believe that if it's with you, we can become like that. I'm sorry. I know I shouldn't be saying this over the phone, but I am afraid if I miss now, I might not have the courage to say it anymore… I hope you will understand."
As if she were squeezing her feelings out, she expressed her innermost thoughts to my brother.
But when I heard her true feelings…
"?????????????????????????????"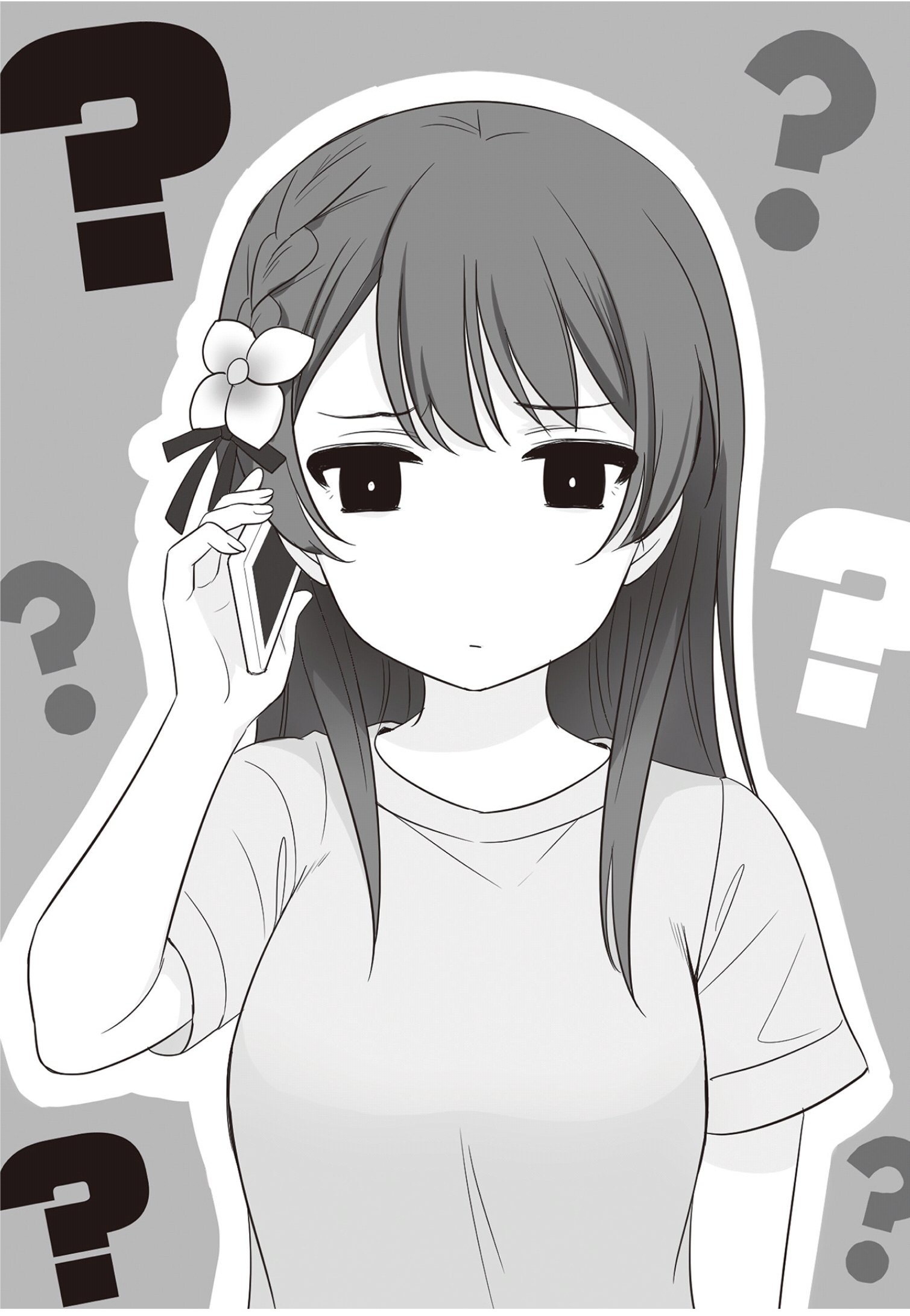 I couldn't understand a word my sister was saying.
I was honestly surprised…
The fact that my brother was trying to comfort someone who was so far from understanding.
No, it was because…
Love without sexual desire is true love? What the h**l is that?
I don't get it.
Is that a Zen question or something?
The reason why we love the opposite s*x in the first place is because it is our biological mechanism to have offspring.
These physiological impulses are engraved in our genes, and affection exists as a result of these impulses controlling our emotions and thoughts.
Definitely not the other way around.
So isn't it natural that the more you think you love someone, the more you want to touch them? Isn't that what a pure relationship is all about?
Or rather…
If you deny it, then why did you go out with my brother in the first place?
If you were going to force him to wait until he was older, why didn't you just go out with him when he was older?
You talked about love, made him fall in love with you, but never responded to his feelings, in return you explained why you did it, and won't even allow my kind brother to forget you.
How could you be so selfish and irresponsible…?
I met him later than you, and can only touch him by becoming you.
"…"
I felt terrible cold emotions piercing my heart.
In this moment, I hated my twin sister, whom I loved and shared my flesh and blood with.
Because the two of you are… lovers, didn't you know that?
I can't imagine how my brother will feel when he hears what you just said.
A kind brother who always blames himself. 
How foolish could he be, to let his temporary emotions get the better of him when my sister wasn't serious about their relationship.
And again, my brother desperately endured.
For better or worse, he's just an ordinary, timid boy, and now he's scattered in a way that he should never be.
It's my fault. It's all my fault.
You put a blade in your heart, to control your desires of a living being.
…To be honest, I never had the slightest intention of depriving my sister of her position as his lover.
Because I know that such a contract, which is similar to a "verbal promise", does not guarantee anything.
To be honest, I wasn't even interested.
So I had no intention of interfering.
All I wanted was to have a place in his heart.
But…
I'm already…
I don't want to be pushed around by my selfish sister and see her hurt my brother.
"──────"
When I thought of that… I had already acted.
With my brother's phone, which I never touched… while it is still connected to my sister, 
I,
Pressed the call button.
"You've said a lot of selfish things… Nee-san."
---
Volume 2 END
---
Translated by Devxtt
Edited by Ryuubii
---
TN: Vol 3 – September 14 2021.
Thank you everyone for reading. Have a great day
---
Comments for chapter "Chapter 24 (End)"
MANGA DISCUSSION