Is it too much to ask to be supported by a spoiled older instructor? - Epilogue - Continuing Relationship
Epilogue: Continuing Relationship
TL: Xean || ED: Chaos || PR: Riciel
"Theo Fordout, once again, you have been brilliant."
Several days later, I was summoned to the royal family's castle.
This was because I was to be honored once again for my role in ending the 'Rebirth Rebellion', as it was called.
The place this time was not a banquet hall, but an audience hall where His Majesty, the Emperor was seated. While His Majesty Erabas sat on a luxurious chair at the far end of the hall, I knelt on the red carpet that stretched from the entrance.
I was in the audience hall.
"However, you have not yet regained your former strength, have you?"
"Yes… the reincarnated Agaliarept was defeated largely because of the joint struggle between me and Instructor Miya. It is no doubt that I could not have defeated it with my own strength alone."
I told His Majesty a lie. That's how it should be. The truth was that the demonized me had defeated Agaliarept, but the instructor had advised me to keep quiet about the demonization. We didn't know how it would be treated by the public perception, so I kept the demonization a secret between me and the instructor and twisted the truth a little.
And after all, I still wasn't at full strength after my wings had fallen off. I thought I had made a full recovery during that battle, but as if that had never happened, I had reverted to being weak as ever. The cause was unknown, but I didn't think demonization had anything to do with it.
While I was thinking about this, His Majesty lowered his eyes with concern.
"But still, you were the one who put the finishing touches on Samuel's fight, weren't you? Then you should be proud of yourself. You have the right to receive this."
His Majesty Erabas said this, stood up from his opulent chair and then approached me. The man at his side presented His Majesty with a medal on a tray.
"I will now award you with this medal. Theo Fordout, you may rise."
"Hai!"
I stopped kneeling down and faced the Emperor. I looked at the ribbon of the medal His Majesty was holding and was surprised.
"Your Majesty, this is…"
"Indeed. I will award you this Azure Sky medal for this occasion."
The Azure Sky medal.
It was the highest form of honor in the Esterd Empire.
"… Are you sure of this, Your Majesty?"
"Of course. You have done well to deserve it."
"Thank you, Your Majesty…?"
The honor was overwhelming, but if I were to refuse it, it would be the greatest form of disrespect.
I stood firmly and quietly, and then His Majesty Erabas placed the ribbon of the Azure Sky medal on my chest.
"Good. Now, I want you to never give up hope and continue to work hard for your recovery. And in the future, we will surely destroy the demons."
"Yes, Your Majesty."
Thus, the awarding in the audience hall ended.
Afterwards, I was surrounded by people from the newspapers as I left the castle, and was interviewed in various ways. By the time I was released from them, the sun had already set and I headed for Instructor Miya's house while being a little exhausted.
I was still living in her house now. As long as I haven't regained my strength, there was no way she was going to let me go, or so the story went. I didn't feel uncomfortable with this decision, so I continued to take her word for it.
"Ah, Theo-kun, welcome back."
When I arrived at the instructor's house, I was greeted by the instructor in plain clothes .
She hadn't been working for the past few days due to her recent injury and was currently recovering at home.
However, she was still in good spirits.
"Theo-kun, you're a little late coming home, aren't you?"
"Actually… I was surrounded by reporters."
"Ara, that must have been terrible."
After saying this in a sympathetic tone, the instructor stared at the chest of my formal wear.
"Rather, Theo-kun… That- You've been awarded the Blue Sky medal?"
"Yes, based on my past achievements, His Majesty bestowed this upon me today."
"Wow, Theo-kun, that's amazing! It's a great accomplishment to receive the Blue Sky medal at such a young age!", The instructor said happily as if she had received the award herself. I really liked that about her.
"Congratulations, Theo-kun! Now, let's go inside the house."
I walked with the instructor to the living room.
The living room was slightly decorated, and there was a feast on the table.
"What's going on here?"
"Fufu. Actually, Theo-kun was going to receive an award, so I decorated the room a little to celebrate. It's also to commemorate the re-defeat of Agaliarept. It would have been best if it was also to celebrate Theo-kun's return to normal."
The words sounded a bit depressing. It was a little sad to hear snice the instructor saw that I had fully recovered during the fight. From the instructor's point of view, I was now back to being a nobody, so she had to take care of me even more.
I sat down on a chair at the table, grateful for the feeling.
"Did you do the cooking yourself?"
"No way. I just bought some pre-made stuff."
The instructor responded in embarrassment and sat down in front of me.
"Well, let's get this little awards party started, shall we?"
The instructor poured some citrus juice into her glass and mine.
"Then, let's toast?"
She held the glasses in her hand. I did the same. The two glasses clinked together, and the small commemoration party began.
The instructor and I tried to have a good time with idle chatter, but it only went halfway.
In the end, she was still upset from the fact that I couldn't get back to normal. I had the same feeling, so that was probably also troubling the instructor.
More importantly, the fact that I couldn't get back to my old strength meant that our relationship couldn't move forward from here.
When I get back, we'll take our relationship one step further.
We didn't say anything definite, but I was sure my instructor and I shared these feelings at the end of that date.
That's why we couldn't go any further right now.
We had to maintain the status quo. There was nothing I could do about that.
But I thought I should tell her at least how I felt. If I did, it would probably only annoy her, but I didn't think I could keep it in the back of my mind any longer.
"Instructor…"
I stopped eating and looked the instructor in the eyes.
"What? What's the matter, Theo-kun?"
"I love you, Instructor."
"…"
As if flustered by my sudden confession, the instructor turned red and looked away.
"Wh-what's with that… Mou~… all of a sudden…"
"I'm sorry, but I just wanted to tell you… and let you know… and… what about the instructor?"
"… Eh?"
"I don't think I've ever really asked… what the Instructor thinks of me."
I heard that she had unintentionally expressed her affection for me on our date, but whether she had meant it as a member of the opposite gender, or as a student, was unclear.
In the first place, I couldn't tell whether it was correct to say that the next step of our relationship would be "Lovers" if I were to recover my power.
There were so many unclear things.
"So, if it's not too much trouble, can you tell me? How does the Instructor feel?"
"That is…"
The instructor looked away with a deeply red face and remained silent for a few seconds. I wasn't even sure what she would tell me how she felt if I returned to normal.
If she didn't want to tell me, I wanted to respect that, and assure her that she didn't have to force herself right now, but…
"You know, Theo-kun…"
I was about to tell her that I respected her wishes and that she didn't have to accept my feelings just yet, when the instructor slowly turned her head and looked at me.
Her face was still red.
"I'll tell you one thing for sure."
"… Yes."
When she said that to me again, I suddenly felt nervous. What if she was unhappy with it? What if her response is a negative one?
As I gradually lost my composure, the instructor continued to open her mouth.
"I've been thinking a lot about you, Theo-kun," she began with those words. Until suddenly, there was a knock at the door. [ED: oh my god not again]
There were heavy and loud knocks at the door.
"… Eh?"
The instructor's words were halted and I was dumbfounded, but then I heard the front door open and shut. The sounds of footsteps were coming down the hallway.
Immediately afterwards, the two people who appeared in this living room were…
"OneーTwo. ーCongratulations on your Medal of Honor! Hey, Erza! Why didn't you say it together with me?"
"Because it's weird to congratulate him together with Sharon."
"You, you really are…! Now, I feel like an idiot for blowing the horn all by myself!"
Sharon became heated up, and Erza looked at Sharon with a cold expression.
But this is not the time to be cool about this…!
"Hey you guys… why did you have to come here, with this timing…!"
I was about to lose my temper for the first time in a long time. This was not a good time to visit. This was too much. Thanks to this, I missed the instructor's words, and her expression was one of relief. Her look was saying something like, "I'm glad I didn't have to tell him…".
I can't stop wondering what the instructor was going to say. Why is she so relieved that she didn't have to say anything? Why, Instructor!? Are you that relieved that you didn't have to hurt me? If that's the case, does that mean you were trying to tell me you didn't like me?
Zu~n… While my tension sank to the ground… the instructor talked to Sharon and Erza as if she had regained his composure.
"Sharon, and Elsa, good timing this time. I was surprised by your unannounced visit, but I'm glad you came."
"Hey, Miya-san…, something tells me that Theo's dying."
"It seems I have to comfort him."
With that, Erza stroked my head and patted me. Damn… I feel like I'm falling in love with Erza.
"I don't know what's going on, but I don't want Erza to take the lead!"
It was nice that even Sharon started to stroke my head, but I wanted her to do it in moderation because there was no benefit to stroking my head. I'm sure I'll go bald sooner or later if she keeps doing this.
"… Theo-kun, I'm sorry, okay? But I'll tell you soon enough, so for now…"
The instructor apologized to me like that, and I felt like this was the end of the matter.  Well, it can't be helped… It's not like I can say it again here.
So, after that, we resumed dinner, now with Sharon and Erza.
In the meantime, the instructor suddenly asked me.
"Ah, by the way, Theo-kun…"
"Yes? "
"Is there anything you want to do from now on? Now that we've overcome this incident, I feel like you've reached a certain point. I guess I should say your future goals."
"Future goals? If that's the case, the most important thing is to protect you, of course."
"I'm glad, but you can't put your life on the line anymore, okay?"
"I know, I understand."
However, if something happens to you, I will definitely risk my life again. Of course, I'm only going to risk my life, but I'm not going to die. In the end, I will do my best to survive.
"The next thing I want to do, after protecting my instructor, is to destroy the demons that I have been talking about. And it would be great if I could discover my own roots after kicking the demons to the ground."
The pinnacle of the demons – the Great Demon King Lucifer. It seems that I might have inherited his blood. I wanted to know more about myself, including whether or not that could be true.
"I don't know anything about my true self. Because everything I am now is just an illusion, given to me by the humans. So I think it would be great if I could learn something about the real me someday."
"I see."
The instructor nodded and looked at me with a somewhat relaxed expression.
"If that's what you want to do, I'll support you in that. But let me say this in response to what you just said, about how Theo-kun is just an illusion. The current Theo-kun is not an illusion, but the real Theo-kun. Okay?"
"… Instructor… Yes, thank you very much."
Once again, I thought… that she was the sweetest, most caring, most wonderful woman I've ever met.
"Theo, I also think the current Theo is the real one too!"
"Same here."
I would also like to thank Sharon and Erza. Needless to say, they were the best friends I've ever had.
I've been blessed with such a great environment that I've decided to indulge myself in some entertainment for tonight. I'm sure I won't get busted for doing so.
※
A few hours later. After the little party was over and Sharon and Erza had left, it was very quiet in the house. Especially since Theo-kun has been asleep.
"Theo-kun… I'm really sorry about what happened earlier."
I told Theo-kun who was sleeping on the sofa.
Since Sharon and Erza had intruded, I couldn't tell him what I wanted to tell him. And I was somewhat relieved about that.
After all, I'm not very good at revealing what's on my mind.
I was relieved that I didn't have to say anything.
I feel sorry for what I did to Theo-kun.
But I'll be sure to tell him exactly what I feel when he gets back to normal.
"So until then, please wait for me… okay? I'll do my best to support and nourish you as you work your way back to full health. Let's do our best."
I brought my face closer to Theo-kun's sleeping face and gently kissed him on the lips. [ED: aaaaaa]
I'm embarrassed to say that this was… the first kiss for me, Miya Samuel, a single, twenty-six-years-old woman.
One day, you'll have to take responsibility for me, okay?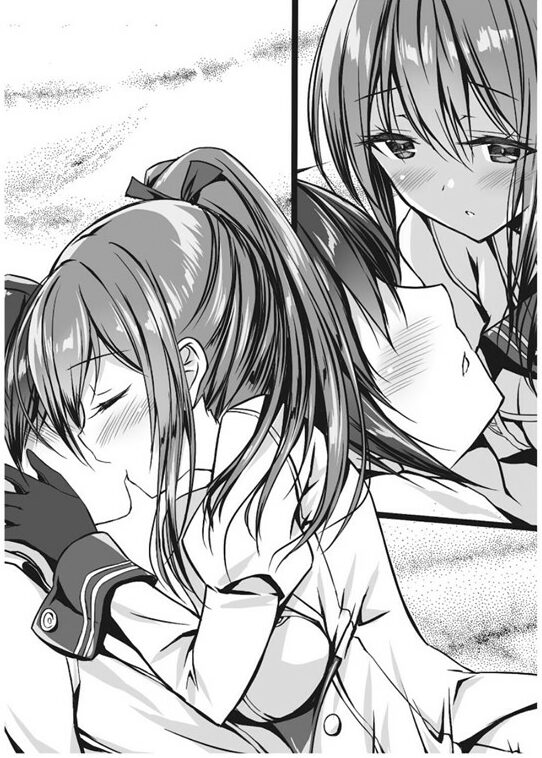 Comments for chapter "Epilogue - Continuing Relationship"
MANGA DISCUSSION