Is it too much to ask to be supported by a spoiled older instructor? - Chapter 7 Part 5 Second Coming - End
Chapter 7 Part 5 Second Coming - End
TL: Xean || ED: Chaos || PR: Riciel
I closed in on Agaliarept again, lifting him up in a chokehold. He didn't even notice my approach. The difference between us was already staggering.
"Don't speak human language. You're just a lowly creature."
"Gugh, gugh, gah…!"
"I don't know what you're talking about anymore. But that's fine."
"You…Y-youuuu…!!"
"Ah, and I'll return back the words you said earlier. It feels good to crush a domineering entity like an insect."
"This is… not much…! Don't be so cocky…!"
With all the strength he could muster, Agaliarept broke free from my chokehold. Then he released an energy sword from his hands.
The unleashed force would have severed the torso of a normal human being in half, but I easily stopped it with my bare hands.
"Is this your full power?"
"No, this can't be! Alright, let me show you… you'll regret this!"
Agaliarept soared high into the sky. He spread his wings wide with the sun at his back and created a number of magic circles around himself. Few was an understatement. There were hundreds of them, filling the entire sky.
"It's too late to cry out now. Be a good boy and turn to dust!"
The next moment, all of the magic circles emitted a pale radiance, and immediately after that, a bunch of black light poured down, crossing over me and my whole body.
The sound of the explosion was enough to shake the earth.
A few moments later, after the series of explosions.
A tremendous shock wave struck my entire body and I shielded the instructor. I had to withstand the force of the blast.
"Hahahaha! Did you enjoy it, human! There is no one who has ever survived this attack."
Agaliarept's words were suddenly cut off, followed by a shocked voice that said, "How?"
As the explosion cleared up, I could clearly see Agaliarept's eyes widen in surprise.
"H-how can this be…?"
And what he saw was probably the sight of me, unharmed, with my wings deployed to protect even my instructor, so his expression must've been one of despair. He must be having a hard time believing the fact we escaped unscathed from his strongest attack.
"Why… how can you take that and remain unharmed…?"
"It's because you're weaker than me."
"… You've got to be kidding me!"
He took a deep breath and glided. He was going for a melee attack. Agaliarept with his rapid approach swung his fist at me with a 'swiftness' that could only be described as slow.
I took a half step back to avoid it and grabbed his arm. And then I threw him into the air.
"This…!"
Before he could regain his stance, I kicked the ground and took off leaving a cloud of dust, striking him vigorously in his solar plexus.
"Damn it… ugh…!"
I promptly kicked Agaliarept at the side of his head, launching him even higher into the air.
Using the maneuverability of my wings, I chased down and strangled the weakened Agaliarept once more with one hand.
In the middle of the empty sky, there was only me and him facing each other.
"This is the extent of your power, Awakened 13th Polaris General?"
"You, why do you… have that blood in your veins… the blood of kings?", Agaliarept cried out while struggling.
It was the first time I had heard of it. How does he know what blood I'm carrying?
"That's…"
An answer that no one will give me.
"… the answer I want to hear the most.
So don't stand in my way. I will destroy the demons and then I will learn who I am."
I put my hand onto his neck as he squirmed and struggled in the air.
"Do you have any last words? Well… even if you have, don't say anything and just die."
There is no mercy for demons.
It is because of demons that abominations are born.
Because there are such things as demons, abominable children are born and abused.
Don't create any more unhappy children. You don't even take responsibility for creating them.
"Since you guys are the real demons…."
"I do not want demons in this world…!"
This damn blood.
"——I don't need this blood…"
I let go of the stranglehold and let Agaliarept go. A brief moment of silence. As soon as the expression on his face eased from the pain, I deployed a magic circle.
Humans can't use magic.
But I'm not human.
At least for now—— I'm no better than a demon.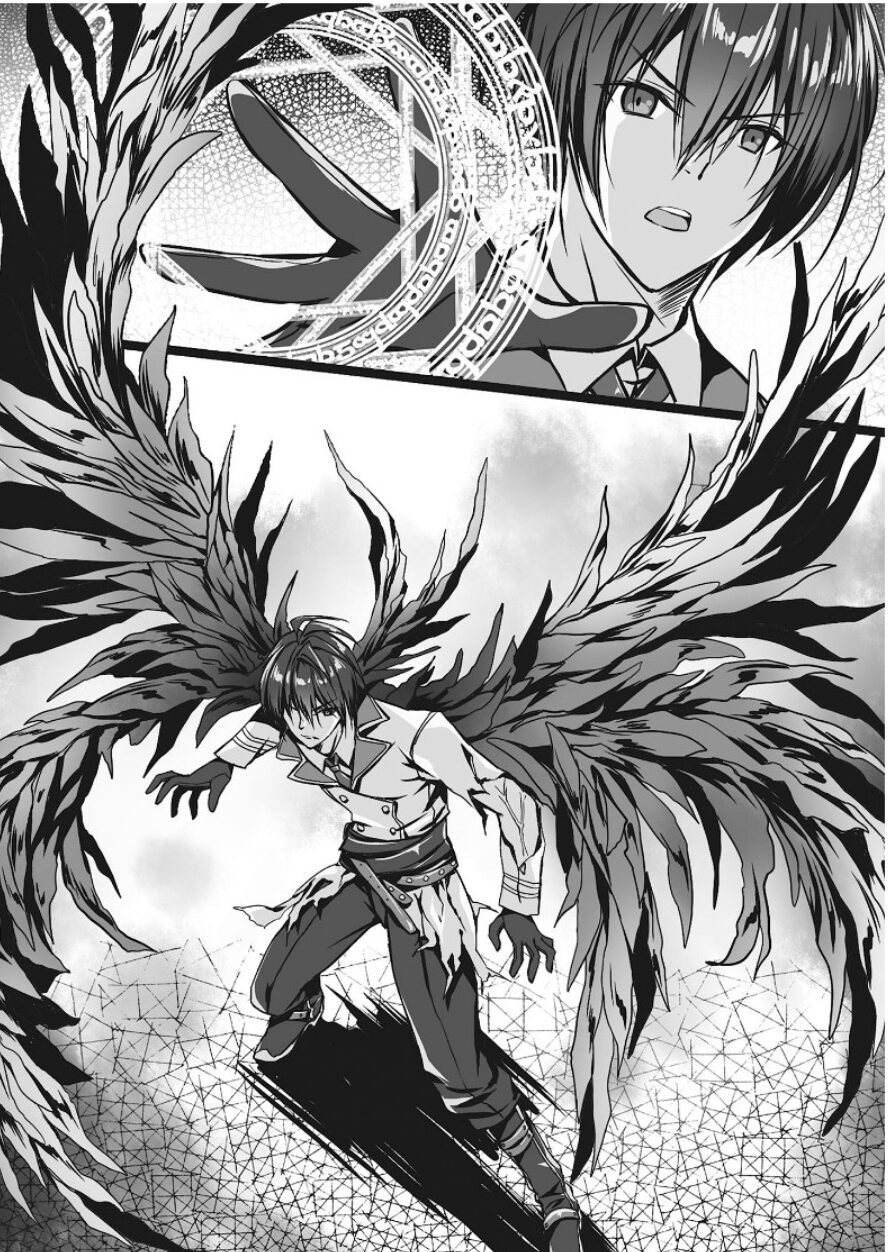 So what's wrong with taking advantage of that?
"Die!"
A huge ray of light is unleashed from my deployed magic circle. It pierced Agaliarept's body and continued to extend far into the sky.
"Ah… haha… even if you continue to kill demons… the demons will never be annihilated."
"Spit out what you know!"
I raised the output of the magic and gave Agaliarept the finishing blow. A few ripples spread out around the ray of light, and they obliterated his body in one sweep. It was a complete victory, leaving not even a speck of dust.
As soon as the battle ended, I felt a tremendous sense of fatigue. Perhaps it was the adverse effects of demonization. I've fallen into an existence that I despised. Even so, I would still continue to exterminate the demons.
"It doesn't matter how many times I fall. No matter how many times it takes, I'm going to…"
In that moment, a black haze formed in my thoughts, trying to swallow me up.
"Kuh… Gah… aaaaaaaaahhhhhh!"
I'm losing my mind. I don't know what's right or wrong anymore. I can't stop it. I can't fight it.
Demonization. The price of having fallen.
There was no way I could have used this overwhelming power without any risk.
"Ah…"
I have lost control. It was my body, but it moved as if someone else was controlling it.
My body, still demonized, descended to the ground and located the center of the ritual magic circle.
There, Galesciano's body had fallen as if it had been thrown out.
Perhaps the Agaliarept's disappearance had released Galesciano, who had been its main retainer, unharmed.
My body moved towards Galesciano on its own.
Kill him.
I had a strong will to do so. Yes, I was going to kill him. Because of this guy, the instructor was almost killed. I almost died. That's why I'm going to kill him. You'll pay for putting the instructor in danger. Galesciano, you're always in my way. If it weren't for you, the instructor wouldn't be in danger!
I was consumed, wrapped up in dangerous thoughts.
So without even the slightest thought of hesitation regarding the move to kill Garesciano, I took the opportunity to deploy a magic circle to finish him off.
"Stop… it."
That's when it happened.
"No… You can't just kill a person…"
It was the instructor.
She stood up, dragging her battered body, and walked over to me, embracing me from behind.
"Theo-kun… you're not that kind of person, are you…?"
"I, I am…"
Light and darkness clashed in my mind. Then I felt the heat of the instructor. She hugged me from behind, giving strength to the light. Yes… even though I am fallen now, I will only hurt demons. I only have to do that. If I don't, I'll just be wiping out everything I've ever lived for!
"I will… only kill demons…!"
I regained my self and control returned to my body. I closed the magic circle that was unfolding and abandoned my intention to kill Galesciano. Immediately afterward, I felt the blood activation drain from my body. A tremendous amount of feathers had fallen off, and it was surely impossible to make them manifest again. The demonization was over.
The six-hundred-sixty six feathers that had fallen. Agaliarept was saying something about the king's blood.
In other words, I might be…
No, it doesn't matter. For now, let's just rejoice in the triumph… over Agaliarept and my own darkness.
"Theo-kun… you've done well… you have overcome it…"
While hugging my back, the instructor praised to thank me. But it was you who I needed to be thankful the most right now.
"Instructor, please rest first for now."
I laid the instructor down on the grassy ground. I gave her first aid. In the meantime, the instructor had fallen asleep. Just then,
"Uh……"
It was Galesciano who woke up. I tried to speak calmly, but I could not hide the anger that was seeping out inside of me.
"You're awake… you traitor."
"Theo…"
Garesciano muttered in a hushed voice and raised his body sluggishly.
I left the instructor and grabbed Galesciano by the collar.
"You… do you realize what you've done?"
"I-I…"
"The instructor was hurt because of you! Why did you do this? Answer me, Galesciano. How did you become the servant of the Agaliarept?"
"I was guided by a certain demon!"
"And which demon did you sell your soul to?"
"… Human."
"Huh…?"
"I was guided… by a human who told me… that I had the talent to act as a sacrifice."
"What rumors are you talking about?"
"I heard a rumor… that there are humans who're in the service of the demons… These humans are trying to turn the people they choose as their devotees into demons and make them attack human settlements."
I thought it was just an urban legend, but I guess not…?
The other day, Galesciano disappeared into a back alley, and I saw a figure in a black robe there.
… I should have examined the place a little more closely.
While I was filled with regret, Galesciano weakly spat at me.
"I've been used, I've failed, I can't help it… But, I just wanted to… beat you, you know.
… I was in second place the whole time I was in school, and even after I graduated… you were still ahead of me.
There's no way I'm going to get a chance to beat you… The other day, I was humiliated in the orphanage… and that's when they told me. They said that if I do this, my wishes will come true… They never said this would happen though…"
"Ah, so… Serves you right."
I tossed Galesciano as I released my hand away from his collar.
"In any case, you're going to be thrown in a cell in the association for the rest of your life. I don't know what kind of punishment you'll receive after that, but you are guilty of being a part of the demon's plan even temporarily. You may not be sentenced to death, but you should be prepared to do some jail time."
Galesciano nodded his head. He'd already lost the will to go on, aware of what he had done, and he was willing to be caught quietly.
I wasn't going to give him a hopeful speech about starting over again and making a comeback. I didn't want to do it. I rather hoped that he would never appear in front of me again. If he was willing to come back to the musketeer profession with an honest heart, after regretting and atoning for his sins – If he did, I wouldn't welcome him nor I wouldn't reject him either. That much I knew for sure.
Eventually, some of the South Branch personnel who had fled before, returned with reinforcements, expressing surprise that the problem had already been solved. But at any rate, the problem of the reincarnation of Agaliarept, which could have caused great damage to humanity, was successfully solved.  Although a new mystery has been created, I think it was still a happy ending for this case.
Comments for chapter "Chapter 7 Part 5 Second Coming - End"
MANGA DISCUSSION